With studios dropping lumps of coal into North American multiplexes, many moviegoers stayed away over the Christmas holiday weekend as the box office fell sharply from recent years. Christmas Eve fell on a Friday helping to disrupt business, but a lack of exciting product prevented any one film from becoming a sensation.
Universal saved itself from ending the year with only one number one hit with the comedy sequel Little Fockers which topped the yuletide frame with an estimated $34M from Friday-to-Sunday. The critically panned pic grabbed $48.3M since its Wednesday debut and joined Despicable Me as the studio's only releases in 2010 to open in the top spot. Fockers averaged $9,620 from 3,536 theaters over the weekend period.
Though claiming the box office crown, the Robert De Niro-Ben Stiller threequel attracted the worst reviews of the series and opened 32% below the $70.5M five-day Christmas launch of 2004's Meet the Fockers during the exact same days. Factor in rising ticket prices and a whopping 45% fewer people turned out for the latest installment.
With a $100M budget — hefty for a non-effects comedy — the new Fockers succeeded in funneling large paychecks to its principal cast members. Studio research showed that the audience was 57% female and 53% over 30. A poor B- CinemaScore grade indicates bad buzz in the days ahead from those who bought tickets already.
The Coen brothers gave Paramount a Christmas gift with the better-than-expected showing for True Grit which opened to an estimated $25.6M over the weekend and $36.8M across the five days since its Wednesday launch. Loved by critics, the PG-13 Western remake starring Jeff Bridges and Matt Damon averaged a sturdy $8,402 from 3,047 locations over the weekend which was especially impressive given the Friday hit all films took on Christmas Eve when many theaters close early. The lucrative holiday week ahead could help it make a run for the $100M club. Produced for only $38M, Grit should become a moneymaker despite how it fares overseas in the new year.
Bridges showed up in the number three position as well. Disney's pricey action film Tron Legacy ranked third for the holiday frame with an estimated $20.1M falling a steep 54% from its top spot debut. The PG-rated effects pic has grossed $88.3M in ten days and will break nine digits before the end of the year on its way to possibly breaking $150M from North America as well.
Enjoying the smallest drop of any film in wide release, The Chronicles of Narnia: The Voyage of the Dawn Treader collected an estimated $10.8M representing a slim 13% dip. But Fox's 17-day cume for the big-budget 3D adventure rose to just $63.9M which was still below the $65.6M opening weekend of The Lion, the Witch, and the Wardrobe from December 2005.
Family audiences rejected the 3D kidpic Yogi Bear which was hoping for a strong Christmas hold but instead suffered a 46% fall to an estimated $8.8M. With just $36.8M in ten days, the PG-rated pic will struggle to break even given the production cost and marketing expenses. Like so many others this holiday season, audiences are finding this to be a subpar 3D entry not worth paying extra money for.
Paramount's boxing drama The Fighter held up reasonably well in a crowded marketplace for adult dramas by dipping 30% to an estimated $8.5M. With $27.6M so far, the Mark Wahlberg-Christian Bale pic aims to use good word-of-mouth and awards buzz to keep it in the top ten over the weeks to come as the holiday turkeys fizzle away.
Setting sail with a lackluster debut was Jack Black's 3D kidpic Gulliver's Travels which opened on Christmas Day Saturday to an estimated weekend take of $7.2M over two days instead of the usual three. Fox hopes to play well through this holiday week and into New Year's weekend, but this PG-rated film is just the latest in a string of subpar family offerings in 3D to be rejected by parents not interested in paying so much money for mediocre quality. While Disney's TRON and Tangled have worked, underwhelming numbers have been seen for Gulliver, Yogi Bear, Narnia, Legend of the Guardians, Alpha and Omega, Cats & Dogs: The Revenge of Kitty Galore, and others. Studios are slowly learning that there are simply too many 3D movies these days.
Fox Searchlight's awards darling Black Swan dipped 21% to an estimated $6.6M for a sturdy cume to date of $29M. Expanding from 900 to 1,466 locations in its fourth weekend, the Natalie Portman starrer is on its way to becoming one of the distributor's top-grossing titles ever.
Disney's hit toon Tangled was close behind with an estimated $6.5M, off 26%, for a $143.8M tally thus far. The Rapunzel film is now the second highest-grossing film of the holiday season trailing only Harry Potter and the Deathly Hallows: Part 1 which raised its total to $272.8M for the number 49 spot on the list of all-time domestic blockbusters. Rounding out the top ten was the Johnny Depp-Angelina Jolie dud The Tourist which dropped 33% to an estimated $5.7M and a $41.2M cume to date.
The Weinstein Co. enjoyed a good expansion for its awards contender The King's Speech which went nationwide on Saturday into 700 locations and banked an estimated $4.6M over the weekend. Averaging a healthy $6,511, the Colin Firth pic has taken in $8.4M overall.
More specialty films got their platform debuts in before the upcoming Oscar deadline. Sofia Coppola's Somewhere bowed to an estimated $142,000 from seven sites for a solid $20,322 average over three days for Focus. Sony released its Gwenyth Paltrow pic Country Strong in two theaters with $34,642 over the weekend and a $17,321 average. Totals since their mid-week launches are $196,000 and $47,000 respectively.
The top ten films grossed an estimated $133.8M which was down a sharp 48% from last year when Avatar stayed in the top spot with $75.6M; and down 21% from 2008 when Marley & Me opened at number one with $36.4M. Christmas Eve did not fall on the weekend during either of those two years.
---
Author: Gitesh Pandya, Box Office Guru!
"I never expected to win a prize for anything for my films," says writer-director Sofia Coppola, who won the Oscar for Best Original Screenplay in 2004 for Lost in Translation and whose latest, Somewhere, recently took home the Best Picture prize at the Venice Film Festival. When RT caught up with her recently, the quiet, modestly spoken Coppola seemed humbled by the attention, preferring to talk about vintage camera lenses and sound-mixing Ferrari engines rather than the Awards-season circus.
Indeed, the image that opens Somewhere — Stephen Dorff's Hollywood drifter doing laps in his Ferrari in the desert — was the impetus for the film. "I imagine these guys with sports car collections, they have to bring it to some track outside the city to have to be able to drive them," says Coppola, "so I imagined him in the middle of nowhere, kind of going around in circles, to introduce the state he's in. I started with him and the Ferrari, and then I thought about the Chateau Marmont and the stories of people I knew, or things I've heard, around there, and sort of put them all together."
"I pictured Stephen early on, just as kind of this lost, bad boy LA actor," the director continues. "I just felt like he was the right guy for the part; I'd met him and I knew him over the years and I always thought he was a good actor." It's a subtle, affecting performance from Dorff, whose character — a bored actor adrift in the purgatory of his own fame — comprises a lot of wordless, long takes. "Stephen's so sweet that I felt like that would help make you care about watching the character," says Coppola. "He's so flawed that you could easily not be interested, but I felt that he's got so much heart that he could connect people to it."
Curiously, Coppola shot the film using old Zeiss lenses once used by her father, Francis. It's perhaps ironic that Coppola senior is now once of digital's biggest advocates, and at one point had even wondered why his daughter would want to film on archaic stock. "I think he appreciates it now," she laughs, "but I remember he and George Lucas a while back saying, 'Oh, you have to start shooting on digital — why are you using film?'"
Well, that explains the first of her five favorite films…
Rumble Fish (1983, 70% Tomatometer)
I love that it's an art film about teenagers. I just love the way that it's shot — I love those old lenses, those Zeiss lenses; they have a softer feel. [Coppola and her DP, Harris Savvides, used the lenses from Rumble Fish to shoot Somewhere.] Roman [Coppola, her brother] and I are just sentimental about film.
Breathless (1960, 96% Tomatometer)
The Godard version. [On the similarities between the moving car jump cuts in Somewhere:] I guess I was going through that whole New Wave thing… coming from a documentary background.
87% Tomatometer)
That was one of my favorite films when I was growing up, and I'll still watch it every time it's on.
97% Tomatometer)
I love Kubrick. I love the way he put that film together, the way it's filmed. Just some of the shots he did there, like the reverse shot in the car window with the monster.
It's just a beautiful film.
---
Somewhere is in theaters this week. Click here to read our chat with Stephen Dorff , who also talks his five favorite films.
Happy holidays from RT! This week at the movies, we've got frontier justice (True Grit, starring Jeff Bridges and Hailee Steinfeld), family awkwardness (Little Fockers, starring Ben Stiller and Robert De Niro), and a fantastic voyage (Gulliver's Travels, starring Jack Black and Amanda Peet). What do the critics have to say?
---
It takes guts to try to fill John Wayne's shoes. But if anyone can substitute for the Duke, well, why not the Dude? The critics say the Coen Brothers' (relatively) straightforward remake of True Grit is a rewarding movie in its own right – it's tough, sly, and filled with marvelous performances, most notably Jeff Bridges and newcomer Hailee Steinfeld. Steinfeld stars as Mattie, a 14-year-old who hires grizzled U.S. Marshal Rooster Cogburn (Bridges) to track down the man who killed her father; reluctantly, he agrees, and the two journey across an unforgiving landscape, encountering danger along the way. The pundits say the Certified Fresh True Grit is one of the best films of the year, a crowd-pleasing effort from the Coens that manages to maintain their trademark subversion within the framework of an old-school Western. And the cast – which also includes Matt Damon and Josh Brolin – is outstanding top to bottom.
---
A few years back, there was a wonderful comedy called Meet the Parents, which generated big laughs from a smart premise: what if someone who was already anxious about meeting his sweetheart's family discovered that her father bore a striking resemblance to Travis Bickle? But two sequels later, critics are far less amused; they say Little Fockers is a crass, less-than-jovial Christmas turkey that lazily reheats stale material. Once again, Ben Stiller runs afoul of his father-in-law (Robert DeNiro), and a host of talented actors (Barbara Streisand, Dustin Hoffman, Blythe Danner, Owen Wilson, and even Harvey Keitel) are on hand to help make things awkward at every turn. The pundits say Little Fockers is tired stuff, with gross-out gags and punchline-free scenes that make the whole enterprise seem like a cash grab. (Check out this week's Total Recall, in which we count down Stiller's best-reviewed films.)
---
Given that Gulliver's Travels was published several centuries ago, it's understandable that contemporary filmmakers would downplay Jonathan Swift's satirical aims in favor of the book's more fantastical elements. Unfortunately, critics say this big budget, special effects-heavy family film is no modest proposal — it's got a couple chuckles, but is largely lacking in subtlety and whimsy. Jack Black stars as the title character, a lovelorn schlub who stumbles upon the diminutive Lilliputians while working as a travel reporter near the Bermuda Triangle; soon, our robust hero is lording over his own private fiefdom before getting a comeuppance. The pundits say Black's energy redeems Gulliver's Travels a bit, but ultimately it's a thinly-plotted piece of work that can't sustain itself at feature length.
---
Also opening this week in limited release:
Strange days indeed for Stephen Dorff: thanks to his performance as a Hollywood lost boy in Sofia Coppola's new film, Somewhere — which took the honors at his year's Venice Film Festival — the actor has found himself thrust into the celebrity limelight, attending junkets, premieres and interviews much like Johnny Marco, the character he plays in the movie. Fittingly, RT met with Dorff in a hotel suite — Marco spends much of the film listlessly marooned at LA's famous Chateau Marmont — though he wasn't quite at the existential crossroads he faces on screen. Read on for our chat with Dorff about working with Coppola on Somewhere, but first — here are his five favorite films.
Three of my five top favorites are movies by Sofia's father: Godfather one, Godfather two and The Conversation. I love Rumble Fish too. It's hard, you know — I'd put Apocalypse in there too, if I could. I'd put a lot of Francis' movies in. They're just movies you can watch over and over again.

98% Tomatometer)

88% Tomatometer)
I'm probably gonna have to out Scarface in there.
The Shining (1980, 88% Tomatometer)
I can't leave out Kubrick. I think my favorite Kubrick movie is kind of tied between A Clockwork Orange and The Shining. The Shining meant a lot to me. It was the first movie that made me really want to act. I love Jack Nicholson in that movie. I didn't know who Jack Nicholson was at the time — I was like 11 when I saw it, but something about what he was doing in that movie just fascinated me.
---
Next, Stephen Dorff on getting into character for his leading role in Sofia Coppola's Somewhere.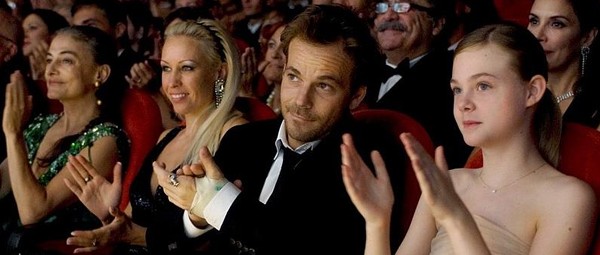 RT: This movie's something, isn't it? Like all of Sofia's stuff, really.
Stephen Dorff: It's a special movie — it's like a jam, I think. I mean, there are only so many filmmakers who have final cut and can make movies like this — whether it's the Coen brothers or Sofia or Quentin [Tarantino] or Paul Thomas Anderson. I was just so humbled and happy that she came to me for this one. I think she made such ballsy choices — she went to the other side, literally just letting audiences be a fly on the wall; almost just watching this portrait of this man. So much of the movie, without Hollywood, to me was about an adolescent father becoming a man, and just this unique kind of set up — this very simple, yet very poetic way of taking a guy in his mid 30s, taking this 11-year-old girl [Elle Fanning, who plays his estranged daughter] and just putting them together.
What's Sofia like to work with as a director?
Sofia is the most detail-orientated, specific director I've ever worked with — everything from my boots down to the jeans I'm wearing, to the way I wrinkle my forehead, she's thought about it. I've never worked with such a short script and with a director who gave me the freedom to… to, well, she wouldn't let me say some things and I had to say these other things without saying them, you know. There were no tricks involved. It felt like the most naked character portrayal that anyone has ever asked me to do — and probably that has been made in a long time. Movies are always moving, you know, they're always cutting and you don't get the time, sometimes — this, on the other hand, gives you more time. She sets it up from the beginning: "You're gonna stick with me, you're gonna go with my pacing, and hopefully you'll feel rewarded in the end." And I think in the end most people are.
How do you prepare for something like this? I know you stayed at the Chateau Marmont for a while.
Yeah, I lived at the Chateau during the shooting, so I would walk downstairs from my room and go into Johnny's room. As far as research goes there wasn't that much to do. I mean I knew the guy and I just wanted to hit all the notes; for me I had to carry this movie for pretty much every frame… especially when the camera's kind of holding on me for four or five minutes at a time. That's tricky; that's hard to do. I can mimic anything: give me a wig or a funny outfit, dress me up as a woman — I mean, that's easy, I've been doing it my whole life and it probably made me wanna be an actor. But I've never done something as physically close to me, with no tricks — just raw behavior and trying to tell a story that way.
How did you connect with this character, emotionally?
Well, he's a genuine person — he's just having a major personal crisis. He's numb and lost and it doesn't matter how many Ferraris he has or how many supermodels he has looking at him, he's got a hole in his heart — and to me, that's very true as well. I think being an actor there is a loneliness and an emptiness, and that comes with being any kind of performer: you give to the audience and then when that show's over, when that movie's wrapped, it's all done. The phone doesn't ring until the next one, you know, and it's like, "Well, what do I do now?" It's tricky, especially if you don't have your shit together. A guy like Johnny, you get thrown into that world, you get super famous, super quick for a movie he's probably not even proud of — he'd much rather be making Somewhere but he's now in Berlin Agenda holding a gun. He doesn't know what he wants to do — until this amazing 11-year-old comes along and he spends a few more days with her.
You and Elle seemed like father and daughter — is that good preparation, or just great casting?
I think it's great casting. From the moment I met her I knew she was the girl. But then Sofia did these things where she created fake memories, because there were no lengthy, eight-page backstories in the script.
How long was the script?
48 pages. Francis [Coppola] even said, "How does my daughter get away with writing these short scripts?" and I said, "I don't know, but she's a damned good filmmaker." But he gets a kick out of it too, because she's always been her own person. I remember when I met her when she was doing Milk Fed, her fashion line. She's always had her own unique way of doing things.
So you knew each other from way back?
We knew each other for years, yeah, through a good friend Zoe Cassavetes, who she thanks at the end of the movie, — I think they had similar upbringings, because Zoe's dad was John Cassavetes.
When she was living in LA were you around at that time?
Yeah, I went to see her. We weren't the best of friends but we definitely liked each other a lot; she came to my 30th birthday party and I went to a lot of the events around Lost in Translation. I was so proud of her: she was the first peer of mine, that I was friends with, that won an Oscar. That was my favorite movie of the year by far — Bill Murray was robbed.
How many takes did you drive that Ferrari around in the first shot?
A lot. [laughs] It'll be interesting to see, every time that movie starts, to see what the audience thinks.
---
Somewhere is in theaters this week.