Jeremy Irvine (Mamma Mia! Here We Go Again) stars as J. Randolf Bentley, one of several international sleeper agents awakening to a violent new world as part of CIA black ops program in Treadstone, USA Network's entry into the Jason Bourne universe. The series explores the Cold War–era origin story and present-day actions of the covert program that uses behavior modification protocol to turn recruits into seemingly superhuman assassins.
Treadstone also stars Omar Metwally (The Affair), Michelle Forbes (The Killing), Brian J. Smith (Sense8), and Hyo Joo Han (Nonstop), in her first-ever American project. The series  is produced by and developed by UCP and executive produced by Tim Kring. Ben Smith and Jeffrey Weiner (Bourne franchise) executive produce. Award-winning stunt coordinator Buster Reeves (Game of Thrones) choreographed the series' stunts and fast-paced action.
Treadstone premieres on Tuesday, October 15 at 10/9C on USA Network.
---
Like this? Subscribe to our newsletter and get more features, news, and guides in your inbox every week.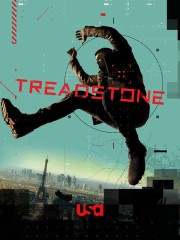 Critics Consensus:
While
Treadstone
is as action-packed and frenetically paced as you'd expect from the
Bourne
universe, it lacks the narrative momentum and cohesion necessary to set it apart.