On August 21, Samara Weaving, Andie MacDowell, and Mark O'Brien will engage in the deadliest game of Hide and Seek ever in Ready or Not, a reverse home-invasion thriller that makes a pretty strong case for singlehood — or, at least, for staying off Tinder until they implement full background checks. In the film, Weaving plays Grace, the young woman who marries into the Le Domas family — a generations-old board game dynasty — only to find herself at the mercy of her new in-laws' darkest tradition. It's bloody, it's cheeky, and it's poised to be a real genre crowd-pleaser.
Ahead of the film's release, Weaving, MacDowell, and O'Brien visited the RT studio to chat with editor Jacqueline Coley, describing how they might "horror-ize" other popular children's games (hint: snakes are more versatile than we realized), recalling their own worst wedding experiences, and talking about the games they played on set — particularly one O'Brien introduced that "makes you want to kill yourself." Also, Weaving explains why the day she spent covered in blood was the most fun — especially because the fake blood was delicious.
---
Like this? Subscribe to our newsletter and get more features, news, and guides in your inbox every week.
#1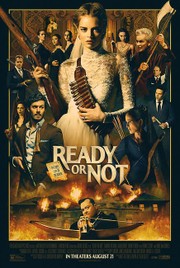 Critics Consensus:
Smart, subversive, and darkly funny, Ready or Not is a crowd-pleasing horror film with giddily entertaining bite.
Synopsis:
Ready Or Not follows a young bride (Samara Weaving) as she joins her new husband's (Mark O'Brien) rich, eccentric family...
[More]