Set a number of years after the fall of the Empire in Return of the Jedi, Disney+'s The Mandalorian opens with a lone, nameless bounty hunter (Pedro Pascal) taking an assignment from some suspicious characters obviously still loyal to the Empire. The bounty is an unexpected life-form, and from the first episode it seems clear encountering it will send the Mandalorian on a path he never expected. This is still a Star Wars story, after all, so he has to take a journey of discovery.
Now that the show is live on Disney+, it is also time for fans to take their own journey of discovery by poring over screenshots, rewatching the available episodes, and trying to discern clues to the real shape of the show. And like generations of Star Wars fans before them, some may want to discover how the show is made.
---
(Photo by Jesse Grant/Getty Images for Disney)
Since The Mandalorian is the most high-profile attempt to bring Star Wars to television — ignoring anything to do with Ewoks, Wookies, or droids for the moment — there is plenty to discuss. So let's take a look at the first episode, its new way of telling Star Wars stories, and one or two hints we think will be relevant going forward.
We come armed with comments from the cast and crew, who appeared at a premiere event for the series on Wednesday night, to give some aspects of the new show some added context.
---
SPOILER ALERT: Some details below may be considered spoilers for people who have not watched episode 1 of The Mandalorian.
---
Creating a Star Wars Score Unlike Others
Right up front, The Mandalorian opens with a new musical lexicon. While it ultimately finds more traditional themes as the nameless bounty hunter gets closer to his target, his theme — an unusual for Star Wars sound — was something executive producer Jon Favreau and composer Ludwig Göransson addressed at the premiere.
"For me, generally, Star Wars music is, I think, the best film music ever written," Göransson said. The music composed by John Williams for the eight — soon to be nine — Skywalker Star Wars films represent some of the most iconic film themes ever written — from the main title cue to the Imperial March to even the decanonnized "Ewok Celebration." It also forms much of the grammar composers like Star Wars: The Clone Wars's Kevin Kiner and Rogue One: A Star Wars Story's Michael Giacchino used to compose their own accomplished music for Star Wars.
"So there is a lot of pressure coming, and I think the only way that I could do it was to try something completely different," he said. And it all begins with that haunting flute sound which accompanies the Mandalorian on his travels.
---
(Photo by Alberto E. Rodriguez/Getty Images for Disney)
In reality, the sound comes from the most basic instrument a child encounters in music education: a recorder.
"[It was] the least Star Wars–y thing I could think of," the composer said. "But I bought a set of recorders, and the one at the bottom was a bass recorder. I started playing it, and I was like, 'Oh, my God, this sound is really cool.' And I manipulated it, and put some cool modern effects on it to make it into sound like this 'space flute.'"
Favreau explained that they were looking for something just as iconic as the film scores, but different.
"Star Wars is associated, I think above all else, [with] how the music and the imagery marries together and just how you feel as soon as you hear those opening sounds," Favreau said. "So it took a lot to define something in a new way that felt connected to [the Star Wars sound], but something that was discordant; reflecting the way there was no [governmental] structure any longer. That — even though the Empire was tyrannical — after the revolution, chaos emerges, and the music should reflect more of that Mad Max–type flavor in addition to the Star Wars–y stuff that feels very adventurous … Just as the music has defined the films, the music was now defining the show."
---
RELATED: See Where The Mandalorian Ranks Among the Best Disney+ Shows and Original Movies, Ranked by Tomatometer
---
The Samurai Inspiration Behind That Big Twist
(Photo by Columbia Pictures/Getty Images)
The ending of the first episode may give viewers an inkling of where the series might go – something akin to the great manga and film series Lone Wolf and Cub. In that story, a wrongfully disgraced executioner for a shogun in Edo period Japan roams the country with his young son as a sword for hire.
While it is unclear if the Mandalorian will permanently adopt "the asset" the Imperial Client (Werner Herzog) hired him to find, Favreau mentioned that the series very much follows the spirit of samurai films and Westerns — two genres George Lucas looked to when he first developed Star Wars. The premiere's opening moments immediately suggest the influence, which intensifies when the Mandalorian meets the asset, an adorable creature that fans are calling "baby Yoda" on social media in a scorched-Earth spoiler-dissemination effort.
Just to be clear, "baby Yoda" is not Yoda as a baby — the legendary Jedi Master had long before become one with the Force, fading away after a chat with Luke Skywalker in Return of the Jedi. Yoda's species is unknown, so the mystery of "baby Yoda" clearly is one of the joys of the new series.
---
(Photo by Jesse Grant/Getty Images for Disney)
Filoni — the creative mind behind Clone Wars and Rebels — was on hand to field any questions of a spoilery nature and to evade answering them. When asked to explain some of the Mandalorian mythology, in fact, he pointed to both the work he did on Clone Wars and Rebels and to members of a Mandalorian fan group in attendance.
"I usually have dinner with them at [Star Wars] Celebration because they invite me. They have a nice spread. It's really good. It's a good time," he said. "They ask, 'What are [Mandalorians] like?' I said, 'They're pretty much like you would make the Mandalorians.'
"We just brought something to life on screen [that] I see pretty much every summer at Celebration," he continued. "Do you want experience [it] in depth? Go to that. Do you want to experience it in the safety of your own home? Then go in Disney+."
---
Why Herzog Says Its Like Cinema "At Its Best"
Making his first appearance at any Star Wars event, Herzog, the legendary director of classic films like Fitzcarraldo and documentaries like Grizzly Man and Cave of Forgotten Dreams became the topic of discussion when Favreau was asked about the series generating new classic lines or catchphrases.
"Anything that Werner Herzog says," he responded. "It felt real when I heard Werner say the words."
"When you invited me I knew within less than 60 seconds this was going to be big, because I saw the universe. I saw costumes, I saw the round horizon. I saw the spacecraft, I saw an entire universe, and I knew this is really big," Herzog said. He also praised the use of practical sets and creatures, in addition to a new effects technology which allows impossible environments to be rendered into just-shot footage on the fly. "It's cinema back at its best," he said. "The actors see the entire universe in which they are operating. The camera does the same. The camera sees it. So cinema is back to its very life, where it has been, and it becomes very, very lively. It's not robotic. It's a very, very intense life in it, and I enjoyed every moment of it."
As for his character, Herzog said "Jon explained a little bit about the character, and yes, it's a dark, dark figure [who] shouldn't be trusted at all. I knew it was going to be easy."
---
---
Of course, the Client's real aims are yet to be discovered, but from the nature of the asset, we can speculate. Either this branch of the Imperial Remnant is after control of the Force or they seek to use the asset's natural longevity to keep their sense of order alive across centuries. Sadly, Herzog, nor any other member of the cast, could speak to the implications of The Mandalorian's assignment.
Nonetheless, Herzog said the story introduces a "new mythology" to fans and people, like him, who are coming fresh to the Star Wars galaxy. "Not very often in the cultural history we have had new mythologies. We have had it in ancient Greek mythology, we had it in antiquity, and very rarely are [there] moments where new mythologies are evolving. And I find it very significant. And it is also full of fantasy, full of fever dreams, full of new characters that you haven't expected. So it's a wonderful possibility for filmmaking."
---
Was That Jodo Kast?
(Photo by Twentieth Century Fox)
Moments after the first episode went live on Disney+, eagle-eyed viewers spotted several Mandalorians in Beskar Steel armor lurking in the shadows of the encampment the Mandalorian visits to drop off his cut of recent bounties and the first ingot of Beskar Steel he accepted from the Imperial client. One warrior in particular, seemed to closely resemble Star Wars's previous iconic Mandalorian, Boba Fett. The mix of green and yellow on his armor seemed striking familiar. But as we always hope to see Expanded Universe character Jodo Kast — a bounty hunter who pretended to be Boba Fett in the years immediately following Return of the Jedi — make his way onto the show, we're inclined to believe he may be the Mando in question. Then again, would a group of Mandalorians desperate to rebuild their culture tolerate a phony in their midst?
The possibility of Kast appearing may seem slight, but back on both Clone Wars and Star Wars Rebels, Filoni found ways to bring discarded EU characters like Admiral Thrawn and planets like Malachor back into the story or, at least, the galaxy's history. And Favreau's gleeful inclusions of Life Day and Boba Fett's pulse rifle from the reviled Star Wars Holiday Special suggests there may yet be a place for one of the Engines of Destruction to make his mark. Since we're being hopeful, maybe Kyle Katarn could sneak back into the universe as well.
---
Expect Awesome End Credits
(Photo by Disney+)
At nearly every press event from last April's Star Wars Celebration to Wednesday's premiere, cast members like Pascal and Carl Weathers have been effusive about the artwork they saw in Favreau's office when first meeting him about the show.
"It was wall-to-wall [with] story illustrations of what they were creating and [it was] instantly the most gorgeous Star Wars images you could possibly imagine," Pascal said.
From the get-go, Favreau wanted to celebrate and share the art. A few weeks ago at a press conference, it seemed as though this would take the form of an art book or bonus features on the show's Disney+ page, but at the premiere, Filoni confirmed those design illustrations will form the graphics accompanying the end credits of each episode.
"Each week you're going to see some of the images [Pedro] saw, developed by the little team of ours from Lucasfilm," he said of the artwork, some of which lucky premiere attendees saw in the end credits of the very well received episodes 2 and 3.
The Mandalorian airs Fridays on Disney+.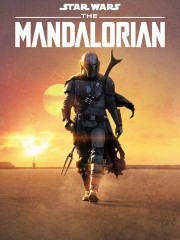 Critics Consensus:
Action-packed and expertly-crafted -- if at times a bit too withholding --
The Mandalorian
is a welcome addition to the
Star Wars
universe that benefits greatly from the cuteness of its cargo.
---
Like this? Subscribe to our newsletter and get more features, news, and guides in your inbox every week.