NOTE: The free episode is available until 11:59pm Thursday May 23. 
Check out the full first episode of DC Universe's misfit superhero series Doom Patrol. It will be available on Rotten Tomatoes for a full week ahead of Doom Patrol's season finale.
About the Series: Doom Patrol is a re-imagining of DC's most beloved group of outcast superheroes: Robotman, Negative Man, Elasti-Girl, and Crazy Jane, led by modern-day mad scientist Dr. Niles Caulder (The Chief). The Doom Patrol's members each suffered horrible accidents that gave them superhuman abilities — but also left them scarred and disfigured. Traumatized and downtrodden, the team found purpose through The Chief, who brought them together to investigate the weirdest phenomena in existence — and to protect Earth from what they find. Part support group, part superhero team, the Doom Patrol is a band of super-powered freaks who fight for a world that wants nothing to do with them. Picking up after the events of Titans, Doom Patrol will find these reluctant heroes in a place they never expected to be, called to action by none other than Cyborg, who comes to them with a mission hard to refuse, but with a warning that is hard to ignore: their lives will never, ever be the same.
Starring:
Diane Guerrero as Crazy Jane
April Bowlby as Rita Farr / Elasti-Woman
Joivan Wade as Victor Stone / Cyborg
Alan Tudyk as Mr. Nobody
Matt Bomer as Larry Trainor / Voice of Negative Man
Brendan Fraser as Cliff Steele / Voice of Robotman
Timothy Dalton as Niles Caulder / The Chief
Riley Shanahan as Robot Man (on-set performer)
Matthew Zuk as Negative Man (on-set performer)
Doom Patrol's remaining episodes are available to stream on DC Universe.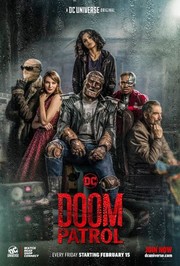 Critics Consensus:
DC Universe finds breakout material in this iteration of
Doom Patrol
thanks to a fully committed cast and the writing's faith in weirdness.
Synopsis:
A re-imagining of one of DC's most beloved group of outcast Super Heroes: Robotman, Negative Man, Elasti-Girl and Crazy Jane,...
[More]
---
Like this? Subscribe to our newsletter and get more features, news, and guides in your inbox every week.