Living With Yourself
star
Paul Rudd
was tested by having to act opposite himself in the new Netflix comedy. One of the main challenges Rudd faced in playing both versions of Miles, a man who must confront his clone when they meet, was coming up with the actual method of getting in front of the camera and doing it.
"I would record both parts as audio and I would play the character that was driving the scene," the Marvel Avenger told reporters at the series premiere in Hollywood. "That one, I would film first and I would listen to myself in that scene. […] I'd look at the tape we had made, and study what I had done, and then I would just be the other guy and try to act opposite that and those movements. It was a bit frantic, to say the least."
The show, from former Daily Show writer Timothy Greenberg and now Certified Fresh on the Tomatometer, tells the story of Miles, a middle-aged man struggling with the everyday stresses of life. The mundane-ness of it all, mixed with personal and professional pressures, leads Miles to an odd spa — a referral by his co-worker Dan (Desmin Borges) — which provides a mysterious service that touts the rejuvenation of one's mind and body.
---
(Photo by Netflix)
In a world where cutting-edge, quirky self-improvement trends seem to cloud the marketplace, this pricey trip — Miles spends $50,000 in cash to fix his life — sounds plausible enough. That is, of course, until he wakes up in a freshly dug grave, wrapped in plastic, in the middle of the forest, only to discover another version of himself at home getting cozy with his wife, Kate (Aisling Bea).
While, at first glance, Living With Yourself may be a bit reminiscent of other mishap-riddled clone-themed comedies like the Michael Keaton–starrer Multiplicity, the Netflix series strives for more than just the expected laughs. The eight-episode season delves into thought-provoking concepts like free will, one's own pursuit of happiness, and the rather existential question: Am I a good person?
"What if there were another you?" Greenberg, who also acts as the show's executive producer and showrunner, told Rotten Tomatoes. "And what if that other you was the better version of yourself?"
That simple question is the crux of the story, and one that was prompted by Greenberg's recurring childhood nightmare.
"I'm sitting at the dining room table and the door would open and there was another me standing there," he explains. "My family would be around, and they'd be laughing and think it was funny, but I would be terrified."
---
(Photo by Netflix)
And once Greenberg got older and created his own family, the fear evolved into something that may touch home for many viewers.
"I started being more concerned about what kind of person I was, in general, but also with [my wife and kids]," he continues. "Why am I sometimes a better or worse version of myself? That became, sort of, a daily concern of mine."
After Jon Stewart announced his exit from The Daily Show, Greenberg faced a career conundrum that had him panicked about his next step.
"I realized I could take this sort of daily concern of how I self-analyze on a day-to-day basis and marry that to these more fantastical elements of, 'What if there were another you?' And 'What if that other you was the better version of yourself,'" he said.
Rudd was always at the top of the list of talent Greenberg wanted to play the lead roles, and while Greenberg never dreamed the Marvel Avenger would be interested in the job, Rudd explained that the combination of the writing and the challenge of playing two parts drew him to the series.
"Normally it seems, with shows, there are one or two episodes written and then the rest is like a one or two-page description of where they're going to take it," Rudd said. "This was unique in that all of them were written. And they were all written by one person. So the point of view was very clear. I thought they were funny, inventive, and I loved what it was kind of talking about: this weird, existential dilemma."
---
(Photo by Eric Liebowitz/Netflix)
Living With Yourself is presented with a dash of science fiction, but the series doesn't rely on grandiose special effects to help build its world; in fact, the genre elements that heighten the story are told through the writing and nuanced performances Rudd delivers as these two different versions of himself.
"There's no putting Paul's face over another person's body or anything like that," co-star Aisling Bea said. "It's all Paul doing two parts and remembering where he was. It's like a copied and pasted thing — but there's a surprising not amount of special effects. And there's a lot of Paul's acting doing it."
Some days, the actor would have to switch back and forth between both characters multiple times, a balancing act that was about as exhausting as it sounds, the actor confirmed. Much of Rudd's recent experience is in the movie-making world with longer production schedules. On the series, they had roughly three months to shoot what equates to essentially a four-hour movie.
Oscar-nominated husband-and-wife directing duo Jonathan Dayton and Valerie Faris (Little Miss Sunshine) helm the entire first season. The perspective that this is really one long movie helped lure them away from the arthouse movie-making they're known for.
"What was sent to us was like eight episodes," Faris said. "So, it kind of felt like reading a movie script. And the idea that we could direct all of them made it feel more like a transition from doing a film into episodic, so we didn't really think of it as episodic television.
"That was really fun," she continued. "But the way the show plays with structure and time made it really different from anything we've ever done. The episodes sort of change perspective and, you know, go back in time and repeat things."
---
(Photo by Eric Liebowitz/Netflix)
Faris and Dayton agreed that they were glad for the opportunity to work with Rudd, the star of Ant-Man and the Wasp.
"I don't know how this would have been possible without Paul," Faris adds. "Watching him was a constant marvel — sorry, had to say it."
Living With Yourself is now streaming on Netflix. 
---
Like this? Subscribe to our newsletter and get more features, news, and guides in your inbox every week.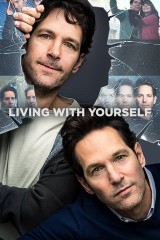 Critics Consensus:
Strange, surreal, and surprising,
Living With Yourself
takes a minute to come together, but once it does it proves to be a clever rumination on identity driven by Paul Rudd's impressive dueling performances.