Do the stars of aspiring holiday classic Last Christmas know their classic holiday movies? We put Emilia Clarke and Henry Golding, who headline Paul Feig's new Christmas flick, to the test with a special edition of our game, Name the Review. The game is straightforward enough: The duo reads one-liners from movie reviews of holiday classics and have to guess which movies are being reviewed. Simple right? Not as simple as it sounds. Check out Clarke and Golding as they struggle – hilariously – to guess Yuletide classics from It's A Wonderful Life to The Santa Clause.
---
Last Christmas is in theaters November 8.

#1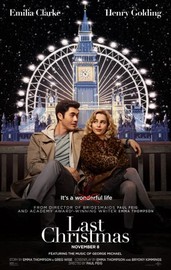 Critics Consensus:
Likable leads, terrific behind-the-scenes talent, and an intriguing musical hook aren't enough to save Last Christmas from its poorly conceived story.
Synopsis:
Kate (Emilia Clarke) harumphs around London, a bundle of bad decisions accompanied by the jangle of bells on her shoes,...
[More]
---
Like this? Subscribe to our newsletter and get more features, news, and guides in your inbox every week.