Rotten Tomatoes is celebrating Halloween with 31 days of horror double feature recommendations. Each day of the week will have its own theme, with today's being Slasher Saturday! And if you want see what's in store or what you missed, see the Daily Double schedule.
---
For Slasher Saturdays, we pay tribute to that most basic, primal subgenre of horror cinema. This Daily Double: Picking up the pieces!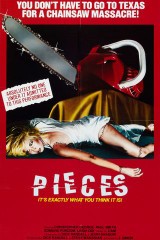 Pieces
: "It's exactly what you think it is!" This movie has probably my favorite horror tagline, second to
Texas Chainsaw Massacre
's "Who will survive and what will be left of them?" Another connection:
Pieces
' main instrument of murder is also a chainsaw — though instead of being set in the deep-fried Lone Star State, this one is set in a Boston university. At least, that's what the movie claims, though it was clearly filmed in Spain. Dichotomies like this only contribute to
Pieces
' ramshackle charm, along with its goofy dialogue, the actors who regularly miss their marks, some ridiculously elaborate kills, and a
legendary line reading
by Lynda Day George. And lest we forget: a ballsy twist finale, which Eli Roth claims on the packaging as the greatest horror ending ever.
Available on Amazon Video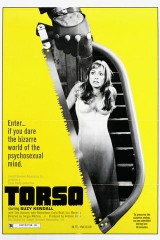 Pieces
owes a lot to the giallo movies that came out in the decade preceding it, especial
Torso
, with which it shares a kindred, sleazy spirit. Both are set at universities, both are about stalking coeds, and both feature a killer who dismembers victims, cobbling them together into a Frankencorpse out of some misguided retribution for childhood trauma.
Torso
also has what has to be the most attractive B-movie cast in a horror movie of this era: The women are beautiful, and the men are walking jawlines. Which is great because the movie is quotidian (though a mud-drenched murder in the misty woods is a standout) until the end of the second act. A plot twist turns
Torso
's final section into a prolonged cat-and-mouse game set in an isolated vacation home, and director Sergio Martino is more than ready to maintain and amplify the tension.
Available on Amazon Prime Video, iTunes, YouTube, Google Play
---
 Yesterday: Freestyle Friday! | Schedule | Tomorrow: Sunday Funday!