Rotten Tomatoes is celebrating Halloween with 31 days of horror double feature recommendations. Each day of the week will have its own theme, with today's being Sunday Funday! And if you want see what's in store or what you missed, see the Daily Double schedule.
---
(Photo by Universal/MCA/courtesy Everett Collection)
For Sunday Fundays, we pick a movie that can be seen with the whole family, and then a follow-up after the kids are put to bed. Featured for this Daily Double: G-g-g-ghosts!!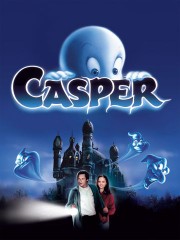 From
Gremlins
to
An American Tail
, the Amblin Entertainment vanity card was virtually inescapable in the '80s…and all but gone by the mid-'90s. Their last big family hit was
Casper
, a contemporaneous take on Archie's historically milquetoast friendly ghost. To remake him as more palatable for the times, the movie is dressed in spunky goth trappings, from the casting of Christina Ricci as the town's new young resident to sets that look like they squeezed into this reality from a never-made Tim Burton movie, and cameos galore. Not to mention some dark twists: Bill Pullman, who plays the father, is killed in the third act and turns into a ghost. Basically, this is a cynical kids movie but isn't obnoxious about it, and comes with a sentimental, romantic finale when Casper is briefly resurrected in human form.
Available on Starz, Amazon Video, iTunes, YouTube, Google Play, Vudu, FandangoNOW

After you put the kids to bed with visions of Devon Sawa dancing in their heads, put on Peter Jackson's The Frighteners, which ties the knot between his quirky Kiwi sensibilities and his burgeoning blockbuster style. Michael J. Fox plays an exorcist living in the shadow of his wife's death, who sends his ghost pals to haunt local houses, forcing the occupants to pay Fox to shoo them away. Once the Grim Reaper himself rolls up, it's up to Fox to figure out what's drawn him to town. Mainstream viewers who have never ventured into B-movie schlock will get their taste of Jeffrey Combs here, who plays an absolutely unhinged FBI agent. Frighteners doesn't slack on gore, including during a mental hospital massacre, nor does it let off on the jokes and slapstick. It's a volatile combination for sure, but one that mostly works. And, like Casper, this horror-comedy ends on a sweet note. Most ghosts in movies stay in the realm of the living because of something they can't let go. Frighteners flips the concept around: the ghosts can't leave because of a man clinging to the past.
Available on Amazon Video, iTunes, YouTube, Google Play, Vudu, FandangoNOW

---
 Yesterday: Slasher Saturday! | Schedule | Tomorrow: Monster Monday!