Sites like Crackle, IMDB, Tubi, Vudu, YouTube and now Peacock all have free movies online for you to stream. The only catch: You have to watch ads. On the plus side, while there are commercial interruptions, the movies are not edited for content like they are on broadcast channels. Which means you can still watch uncut movies and with fewer total interruptions than television airings.
And did we mention the movies were free?
Which movies should you watch, though, now that you know where to find them? Rotten Tomatoes did some digging and sorted through the free movie catalogs of Peacock, Vudu, Tubi, IMDB, YouTube, and Crackle to find the 200 best movies available to watch for free right now. These films, all Fresh on the Tomatometer, include Oscar winners, blockbusters, comedy classics, informative documentaries, and family favorites — all available to watch for free.
Check out our list of the Freshest movies to watch free online to find something new without paying rental or subscription fees.
Just added: All Quiet On the Western Front, E.T., Lost in Translation, In the Name of the Father, The Sting, Vertigo, The Deer Hunter, Do the Right Thing, Moonrise Kingdom, Spartacus, National Lampoon's Vacation, Dave Chappelle's Block Party, Lorenzo's Oil, Reservoir Dogs, Phantom Thread, The Hunger Games, The Hunger Games: Catching Fire, The Hunger Games: Mockingjay Part 1, The Hunger Games: Mockingjay Part 2, Eastern Promises, Zombieland, Sin Nombre, Brokeback Mountain, Broken Flowers, Tully, Coal Miner's Daughter, Escape from New York, Gosford Park, Billy Elliot, The Cook, The Thief, His Wife and Her Lover, Beetlejuice, Atonement, The Constant Gardner, Dead Ringers, Nurse Betty, Charlie Wilson's War, Carlito's Way, The Last Temptation of Christ, The Man Who Wasn't There, 21 Grams, Fletch, Mad Dog and Glory, Secretary, Lone Survivor, American Sniper, Girl with a Pearl Earring, Meatballs, Mo' Better Blues
---
---
---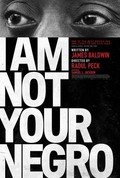 Critics Consensus: I Am Not Your Negro offers an incendiary snapshot of James Baldwin's crucial observations on American race relations — and a sobering reminder of how far we've yet to go.
Where to Stream: Tubi
---
---
---
---
---
---
---
---
---
---
---
---
---
---
---
---
---
---
---
---
---
---
---
---
---
---
---
---
---
---
---
---
---
---
---
---
---
---
---
---
---
---
---
---
---
---
---
---
---
---
---
---
---
---
---
---
---
---
---
---
---
---
---
---
---
---
---
---
---
---
---
---
---
---
---
---
---
---
---
---
---
---
---
---
---
---
---
---
---
---
---
---
---
---
---
---
---
---
---
---
---
---
---
---
---
---
---
---
---
---
---
---
---
---
---
---
---
---
---
---
---
---
---
---
---
---
---
---
---
---
---
---
---
---
---
---
---
---
---
---
---
---
---
---
---
---
---
---
---
---
---
---
---
---
---
---
---
---
---
---
---
---
---
---
---
---
---
---
---
---
---
---
---
---
---
---
---
---
---
---
---
---
---
---
---
---
---
---
---
---
---
---
---
---
---
---
---
---
Thumbnail image courtesy of Everett Collection