Updated July 3, 2020
Sites like Crackle, IMDB, Tubi, Vudu, and YouTube all have free movies online for you to stream. The only catch: You have to watch ads. On the plus side, while there are commercial interruptions, the movies are not edited for content like they are on broadcast channels. Which means you can still watch uncut movies and with fewer total interruptions than television airings.
And did we mention the movies were free?
Which movies should you watch, though, now that you know where to find them? Rotten Tomatoes did some digging and sorted through the free movie catalogs of Vudu, Tubi, IMDB, YouTube, and Crackle to find the 200 best movies available to watch for free right now. These films, all Fresh on the Tomatometer, include Oscar winners, blockbusters, comedy classics, informative documentaries, and family favorites — all available to watch for free.
Check out our list of the Freshest movies to watch free online to find something new without paying rental or subscription fees.
Just added: Battleship Potemkin, I Am Not Your Negro, God's Own Country, Iris, The Fits, Blood on Her Name, Catch Me If You Can, What's Love Got to Do With It, Adventures of Priscilla Queen of the Desert, Gods and Monsters, Housebound, It Follows, Paths of Glory, No Man's Land, Re-Animator, Grease: Live, Transiberrian, 12 O'Clock Boys, Turbo Kid, What Richard Did, Akira, Eat Drink Man Woman, Little Fish, A Royal Affair, Better Watch Out, Galaxy Quest, Let Me In, World's Greatest Dad, Boy, Cloudy with a Chance of Meatballs, My Friend Dahmer, Top Five, What Maisie Knew, Girl with the Dragon Tattoo (2009), Sweeney Todd: The Demon Barber of Fleet Street, Hard Eight, Pieces of April, Rize, I Am Love, Nothing But the Truth, Europa Report, Lars and the Real Girl, Night Catches Us, G.B.F., Grosse Pointe Blank, Whitey: United States of Americ V James J. Bulger, Grand Piano, It's a Disaster, The Robber, Trust, Dog Soldiers, Bronson, Fury, Little Pink House, Zero Charisma, Black Book, Honeymoon, The Ones Below, Rampart, Sunshine Cleaning, Tortilla Soup, The Way Back (2010), The Score, What We Did On Our Holiday, The Hunter, Wish You Were Here, Highlander, It's a Mad, Mad, Mad, Mad World, Pippa Lee, Religulous, Soapdish, Brothers Bloom, May, Wuthering Heights, Afternoon Delight, The Iceman, Mr. Nobody, CQ, Hobo with a Shotgun, Yellow Handkerchief, God Bless America, Sliding Doors, Under the Tuscan Sun, Vampire's Kiss
---
---
---
---
---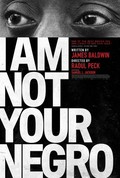 Critics Consensus: I Am Not Your Negro offers an incendiary snapshot of James Baldwin's crucial observations on American race relations — and a sobering reminder of how far we've yet to go.
Where to Stream: Tubi
---
---
---
---
---
---
---
---
---
---
---
---
---
---
---
---
---
---
---
---
---
---
---
---
---
---
---
---
---
---
---
---
---
---
---
---
---
---
---
---
---
---
---
---
---
---
---
---
---
---
---
---
---
---
---
---
---
---
---
---
---
---
---
---
---
---
---
---
---
---
---
---
---
---
---
---
---
---
---
---
---
---
---
---
---
---
---
---
---
---
---
---
---
---
---
---
---
---
---
---
---
---
---
---
---
---
---
---
---
---
---
---
---
---
---
---
---
---
---
---
---
---
---
---
---
---
---
---
---
---
---
---
---
---
---
---
---
---
---
---
---
---
---
---
---
---
---
---
---
---
---
---
---
---
---
---
---
---
---
---
---
---
---
---
---
---
---
---
---
---
---
---
---
---
---
---
---
---
---
---
---
---
---
---
---
---
---
---
---
---
---
---
---
---
---
---
Thumbnail image courtesy of Everett Collection