The big movie this week is the PG-13-rated haunted house flick Winchester, but it wasn't screened for critics, so Christy offers an opinion on a smaller animated film that isn't really for young children. And if you don't care much for the Super Bowl this Sunday — or the teams in it — Christy also has three great suggestions for football movies you can watch with kids of different ages. Read on for the full list.
---
THE MOVIE
---
THE RECOMMENDATIONS
This weekend, it's also the Super Bowl. If you want to get psyched up for the big game – or you'd rather watch anything else besides the New England Patriots playing the Philadelphia Eagles – here are some football-themed movies you can enjoy with the family.

Rating: G
This was originally a made-for-TV movie, so you really, truly could have sat in front of the television with your family and watched this heartwarming story – back when there were only a handful of channels and you had to get up from your recliner to turn the knob. But its themes of kindness and racial harmony are just as relevant today as they were decades ago. Based on a true story, Brian's Song follows the friendship between Chicago Bears teammates Brian Piccolo (James Caan) and Gale Sayers (Billy Dee Williams). Despite having different personalities and backgrounds, they become close, and even end up being the NFL's first interracial roommates. When Piccolo is diagnosed with cancer and begins to deteriorate physically, Sayers is his biggest supporter and champion. It's a weepy, but it's surprisingly understated, and it earns the emotion it seeks. Very young children might find the sadness and/or uplift too difficult to process, but for slightly older viewers, there are a lot of worthwhile themes here. A good choice for kids around 8 and older.

---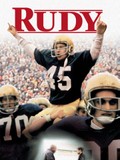 Rating: PG, for mild language.
It may seem super cheesy in retrospect, but it's a classic and it's worth sharing with your kids if they haven't already seen it. The film from David Anspaugh (who also directed Hoosiers) is based on a true story, too: that of "Rudy" Ruettinger (Sean Astin). His lifelong dream was to play football for the University of Notre Dame despite being small at 5 foot 6 and not terribly athletic. He was also dyslexic, which made his classes at Notre Dame even more challenging. But through hard work, perseverance, and just plain heart, he makes the team and becomes a cherished figure. Rudy takes some tough hits on the field; off the field, he endures the harsh words of various people who don't believe in him. There's language scattered throughout, a scene of drinking, and a dramatic death. Yes, it's a formulaic, feel-good sports movie, but it also offers valuable messages for young people about the importance of being focused and dedicated. Fine for viewers around 10 and older.

---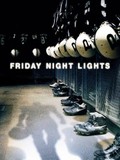 Rating: PG-13, for thematic issues, sexual content, language, some teen drinking and rough sports action.
Before there was Friday Night Lights, the popular TV series, there was Friday Night Lights, the feature film, based on H.G. "Buzz" Bissinger's eloquent and evocative non-fiction book of the same name. All three vividly capture the sensation that football is life in Texas – especially high school football, and especially in West Texas.  But rather than overdramatize the Permian High School football team, director and co-writer Peter Berg goes in the opposite direction, depicting this world in stripped-down, bleached-out fashion. There is an awful lot of action, though. The football scenes, under the guidance of Billy Bob Thornton's Coach Gaines, have a bone-jarring realism to them. Berg also explores the racial and socio-economic rifts that existed both within Odessa in the late 1980s and between Odessa and rival Midland, a wealthier, whiter town 20 miles east. We see the toll that alcoholism takes on the family of a party-boy tailback (Garrett Hedlund) and his abusive father (a chilling Tim McGraw). There's also language, some frank sexual talk, and one passionate make-out scene. But Friday Night Lights is well cast and strongly acted, and high school students will likely respond to its authenticity. Fine for viewers around 13 and older.