For the inaugural episode of Couch Tomatoes, Rotten Tomatoes gathered a critics brain trust to debate their selection of winners for this year's Emmy Awards. Rotten Tomatoes host Naz Perez reveals Rotten Tomatoes' picks and gets the awards scoop on all the biggest Emmys stories from TV Guide's Malcolm Venable, Fandango's Nikki Novak, and IndieWire's Ben Travers. Want to know if Game of Thrones is going to ride its 32 nominations to a sweep of the major Drama categories? Will Julia Louis-Dreyfus become the most decorated actor in Emmys history? And who will win Best Actor in a Limited Series, the most competitive of the night's major contests: Jared Harris for Chernobyl or Jharrel Jerome for When The See Us?
Couch Tomatoes is Rotten Tomatoes' brand-new TV- and streaming-focused show. With each episode, we will tackle the hottest trending topics and biggest TV and streaming news and moments, dive deep into a major series or event, and provide Fresh picks of great shows to help you cut through the clutter and only binge the best.
The 71st Emmy Awards ceremony airs live on Sunday, September 22 on Fox.
---
Click here for a printable ballot (complete with Tomatometer scores!) you can use on the big night.
---
Like this? Subscribe to our newsletter and get more features, news, and guides in your inbox every week.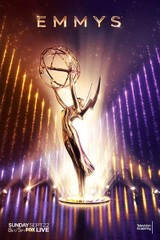 Critics Consensus:
An impressive array of surprising -- and utterly deserving -- wins can't save the 71st Annual Emmy Awards from its own host-less chaos.