After an extended wait, Better Call Saul is finally back for its fifth season. The last time we checked in with Jimmy McGill (Bob Odenkirk), he was still dealing with (by not dealing with) the fallout from his brother Chuck's (Michael McKean) death.
With one moral anchor out of the picture, Jimmy took a huge step closer to filling the shoes of the sleazy, money-laundering, legal representative of one Walter White (Bryan Cranston) the central character of Breaking Bad, one of the best-reviewed TV series of the 2010s. We're not there, yet. But we're way closer than before.
In the last moments of season 4 finale "Winner," Jimmy faced a board of his peers hoping to get his law license reinstated after a year of being blacklisted. The character was at his most vulnerable; referencing a letter Chuck wrote him before he passed away, a teary-eyed Jimmy fought back waves of grief as he expressed his love and respect for his esteemed brother. Board members, as well as Jimmy's girlfriend and fellow lawyer, Kim Wexler (Rhea Seehorn), were moved by the emotion on display.
---
(Photo by Nicole Wilder/AMC/Sony Pictures Television)
But as much as we all (Kim, included) were taken in by Jimmy's confessional moment, the scene that came after was the mic drop of the season, giving viewers a peek at the man we've been waiting for. "Suckers!" Jimmy exclaimed to Kim in the hallway. It was all a con. Slippin' Jimmy struck again.
He got what he wanted, but this reinstatement came as sort of a rebirth. Jimmy decided that moving forward, he would embrace his corner-cutting, con-man skills, and practice law under a new name: Saul Goodman. "It's all good, man," he tells Kim as he heads to fill out the appropriate papers. Kim's concerned look mirrored all of our faces as the episode ended. Kim is never mentioned or seen in Breaking Bad, leading us to wonder if this remaining moral anchor will stick with Saul as the story continues. The likelihood of that doesn't feel good. Not at all.
Co-creators Vince Gilligan and Peter Gould have weaved together another epic morality play with this series. In its first four seasons, Better Call Saul has given heart to even the vilest characters, leaving room for the audience to sometimes even root for the bad guy. We've been waiting a year-and-a-half for the show to return. Does the premiere episode deliver on the hype?
Here's what critics are saying about Better Call Saul season 5:
---
BOB ODENKIRK BRINGS HIS A-GAME AS JIMMY AND SAUL
Odenkirk, as always, continues to find new things to explore about this character he's now been playing for 11 years, with a notable addition to his repertoire in these early episodes: We've seen this man angry, scared, happy, and heartbroken—but there's a new potential in him to be legitimately scary, which Odenkirk plays here with a sort of raw quiet that brings with it a new kind of terror.
—Liz Shannon Miller, Paste Magazine
Gould and Gilligan have turned Better Call Saul into a gripping meditation on character and destiny, and in Odenkirk they've found a leading man very nearly as compelling and complex as Bryan Cranston. It's just that he wears louder shirts … And, when all is said and done, he might be even more of a tragic figure.
—Norman Wilner, Now Toronto
---
THE CARTEL STORYLINE HEATS UP
(Photo by Warrick Page/AMC/Sony Pictures Television)
Jonathan Banks remains exemplary and in theory, Mike's guilt over last season's killing of Werner makes sense, but it's hard to reconcile the hard-drinking, reckless, angry Mike on display here with the consummate professional we've always known and loved. Part of the problem is that Mike as depicted in Saul has always felt a lot closer to his Breaking Bad self than Jimmy, so the attempt to craft a downward spiral of his own feels a little contrived.
—Gabriel Bergmoseralt, Den Of Geek
The drug lord duel has a new energy thanks to Lalo (Tony Dalton), yet another nephew of Hector Salamanca (Mark Margolis). Lalo is the wild card Saul needed, a master criminal not on rails toward an expected ending. Dalton imbues his malevolent operator with charming swagger, so that Lalo seems to be gleefully trolling his own show.
—Darren Franich, EW
---
KIM WEXLER IS STILL THE ONE TO WATCH
(Photo by Warrick Page/AMC/Sony Pictures Television)
Kim remains the most fascinating character of the series. Her proximity to Jimmy means she's forced to go through his insane ups and downs right alongside him, and that creates a dilemma: How do you have Kim stick with Jimmy without having her seem like a complete push-over? It's to the credit of the show's writers, and Seehorn's consistently brilliant performance, that Kim never seems like a sucker. Is she being sucked? Oh, of course she is. And Seehorn has a way of silently playing things so you can tell Kim sort of knows she's being conned, but doesn't quite want to believe it.
—Chris Evangelista, SlashFilm
In what remains current television's most underrated performance, Rhea Seehorn continues to shine as Kim Wexler, the lawyer who encapsulates this conflict between goodness and indulgence as well as does Saul.
—Daniel D'addario, Variety
After last season inarguably belonged to Kim Wexler, I was worried that Better Call Saul's best character wouldn't have as much to do in Season 5, but Seehorn is handed some of her most interesting material yet this year.
—Kelly Connolly, TV Guide
---
COULD THE BREAKING BAD PREQUEL ACTUALLY BE BETTER THAN BREAKING BAD?
The best show on TV remains — emphatically — the best.
—Verne Gay, Newsday
It's a more fascinating transformation than Breaking Bad's science teacher turned meth gangster.
—Tim Appelo, AARP
Better Call Saul Season 5 digs deeper than ever into the sorrow at the heart of Jimmy and the characters that surround him, and along the way solidifies a feeling I've had for some time now—Better Call Saul just might be a better TV show than Breaking Bad.
—Adam Chitwood, Collider
Better Call Saul returns for a two-night season 5 premiere on Sunday, February 23 and Monday, February 24 on AMC. Subsequent episodes will air on Monday nights.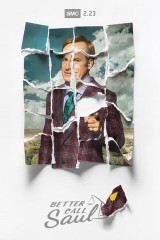 Critics Consensus:
Grounded by Bob Odenkirk's endlessly nuanced, lived-in performance,
Better Call Saul
's fifth season is a darkly funny, vividly realized master class in tragedy.
---